Casinos In South Lake Tahoe Take Precautionary Measures
Casinos in Lake Tahoe's South Shore have had to close for the week following a raging wildfire near the area. The fire is already within a few miles of the lakeside communities, promoting rapid evacuation and relocation in those communities.
With smoke and ash accompanying the fire, major casinos have had to close their doors. However, the resorts and hotels have continued to act as shelters for firefighters, evacuees and employees.
Harrah's and Harvey Lake Tahoe, Hard Rock Lake Tahoe, and MontBleu Resort, are acting as shelters. The three resorts have a combined room space of more than 2000.
Some casinos are still in operation albeit in a restricted manner. The likes of Hard Rock are still operating their slot machines even though the gaming floor is closed.
Casinos are exercising caution as the wildfire continues its rampage on the lake side.
Residents are also very cautious, with several planned holidays on hold.
Normally, with the Labor Day weekend just around the corner, lots of fanfare and enthusiastic fans would be near the freshwater lake, with thousands of people flocking the casino. However, this year will be different with people exercising caution.
The Caldor Fire has changed the Labor Day activities at the lake. Normally, there would be crowds left right and centre at the freshwater lake. But with thousands of residents and tourist evacuating the area, the weekend plans are all but over. Many evacuees are relocating to Carson City, which is around 20 miles from the wildfire.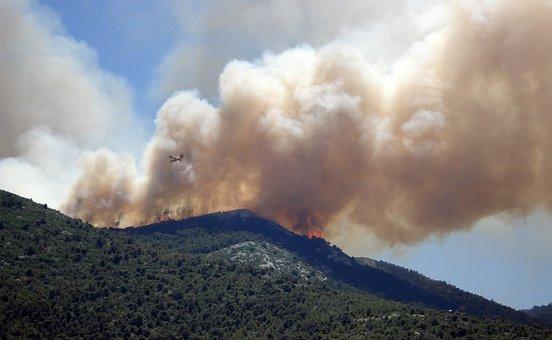 Raging Fire
The calm winds in the last few days have helped the firefighters in combating the raging fire. The firefighters have been working tirelessly in the last few days to keep the fire from destroying businesses and homes on the South Shore.
Jim Dudley, a meteorologist said the calmer winds have been of great help to the firefighters.
"Finally, some good news on the weather side of things here on this fire," he said.
Before this breakthrough, some strong winds have aided the massive fire which started on August 14. The Caldor fire gas burned more than 300 square miles of California dry woodlands.
At the time of reporting, the fire has destroyed close to a 1000 homes, with more than 30,000 threatened. The origin of the fire is still unknown, but the good news is that the firefighters have contained more than 25 percent of it.
According to Dudley, the worst isn't over. Although the winds are calm, the low humidity means the fire risk is very fire and growing.
"We're still not out of the woods," he said. "The fire is still moving."